Classifieds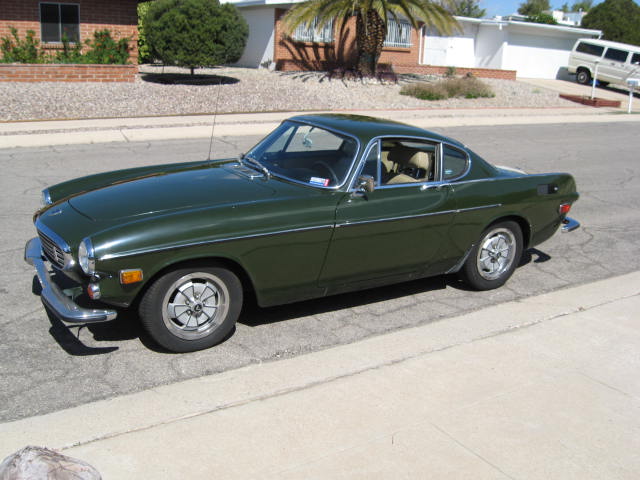 1970 Volvo 1800E
British racing green over tan leather. Imron paint is showing its age, paint shows chipping and cracking. Leather replaced 5 years ago, no tears or rips. Good chrome and glass. Wheel paint scheme reversed, easily changed back to original. New Michelin MXV4 tires plus one size. All original parts available: radio, valve cover, etc. 20,000 miles on rebuilt IPD B2130 kit, IPD Street Torque cam, original fuel injection tweaked for increased displacement, drivability, and emissions. Custom radiator, dealer installed Volvo A/C with Freon 12. Rebuilt: M410 trans, overdrive, steering, fuel system, wheel bearings, suspension ball joints and bushings. Front muffler removed, but not too loud. Clock inop. Aftermarket AM/FM cassette and speakers. Synthetic lubricants throughout. Any rust long ago repaired, didn't reappear, not driven in the rain. A great driving car, not a looker. Not concours, but could easily be. Lots of spares and Volvo shop manual. Same owner 25+ years in the AZ desert. $6900 or best offer. Return to work from retirement forces sale. Located in Tuscon, AZ.
Contact us about this car.
(click on thumbnail)
Exterior
Interior
Engine Bay
Identification
Miscellaneous
Site Disclaimer:
This site is not affiliated with AB Volvo, Volvo Car Corporation, Volvo Cars of North America, LLC, or other Volvo companies whose products may be viewed in these pages.
Copyright © 2008 iROLL Motors, Inc. All rights reserved.